Content Marketing Leaders Increase Effectiveness with Video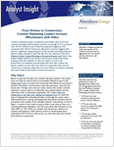 Content marketing leaders plan to increase content marketing related program spend by an average of 31% and content development budgets by 22%.
Aberdeen's research suggests that video is a signifcant and growing part of the content marketing mix. This Analyst Insight explores key trends in video-based content marketing, looking at both the adoption of video by leaders, as well as the performance of companies incorporating video into their marketing mix.
Download the report today!
---
FEATURE ARTICLES:
Why Creating Great Content Needs to be be One of Your Top Goals

In today's market, you and your organization are more than sales professionals: you're subject experts that can offer something of value to customers and prospects. That is why it is so important to create a base of thought leadership in your work: transcending what you are selling and sharing what you know.
(Read More)
Three Elements Every Marketing Mix Should Have

You've done your strategy work. You've defined your target market, developed compelling positioning, established a competitive analysis and advantage, and packaged your products/services in a clear and compelling way. Now you're ready for the fun stuff -- the marketing mix. Make sure yours has these three key elements covered.
(Read More)