Best Practices for the 5 W's of Sales Intelligence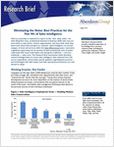 Much as a journalist is expected to report on the "who, what, when" when filing their story, professional B2B sales reps are more likely to open doors, nurture opportunities, and close deals when they know more about their prospect.

This brief summarizes Aberdeen research findings based on sales intelligence data collected from 206 survey respondents. Learn the best practices and technologies of top-performing sales leaders and sales operations practitioners. Download the brief today!


---
FEATURE ARTICLES:
Selling—The power of conviction!

Conviction. noun 1. a fixed or firm belief. 2. the act of convicting. 3. the act of convincing. 4. the state of being convinced. We have talked before about the importance of TRUST in the selling relationship. People buy from you because they trust you. It's that simple. If they believe you, they'll not only buy from you, they'll be loyal to you. (Read More)

SALES: Are You Ready To Propose?

The biggest factor we find contributing to low close rates is the actual readiness for the proposal stage itself. We're so anxious for the win, we often miss an important question, "are we ready to propose?" Rushing through the sales process to a proposal too quickly, without properly engaging, qualifying, and assessing your opportunity is the quickest way to lose more deals.
(Read More)